Gift Card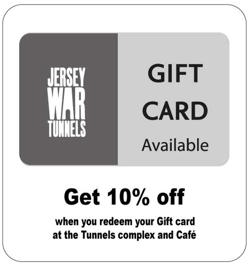 Jersey War Tunnels Gift Card
Give the perfect present with a Jersey War Tunnels Gift Card. 
The Gift Card can be used to enjoy a truly unique experience of visiting the
underground tunnels complex, an Escape Room challenge or perhaps a
delicious afternoon tea or lunch at our Café @ The War Tunnels.
The Gift Card entitles the holder to a 10% discount and can be redeemed at
our tills inside the  They are valid for one year after
the purchase date.
To purchase a Gift Card for the value of your choice, please call: 01534
860808. A member of our team will be available to assist you or alternatively,
please email: bookings@jerseywartunnels.com