Out with the Boys!
On 28th June 1940, with invasion imminent, the German Luftwaffe bombed the harbours of Guernsey and Jersey.
In total, 44 islanders were killed in the raids. Fearing further attack, plans were made for both Jersey & Guernsey's lifeboats to head to the Isle of Wight, where they would be safely laid up for the duration of World War II.
A foiled plan
Guernsey's lifeboat, Alfred and Clara Heath, set sail to meet up with Jersey's lifeboat, the Howard D., for the journey across the channel. But as the lifeboat approached Jersey's coast it came under machine-gun fire from enemy aircraft. Tragically, the Coxswain's son was killed. The crew returned home to Guernsey, the escape plan was foiled, and both lifeboats remained on station in their respective islands for the duration of the war.

"Out with the boys"
The German forces arrived in Jersey on 1st July 1940. In the years that followed the Howard D. was called out for incidents several times, always with a German guard on board. With all communication to and from the island censored by the Germans, little was known of the continued brave actions of the crew at the time.
But one ingenious islander did manage to get word out: in a Red Cross letter to friends in the Isle of Wight, they wrote "Howard has been out with the boys", from which they would understand that the Howard D. and its crew were well and still in action.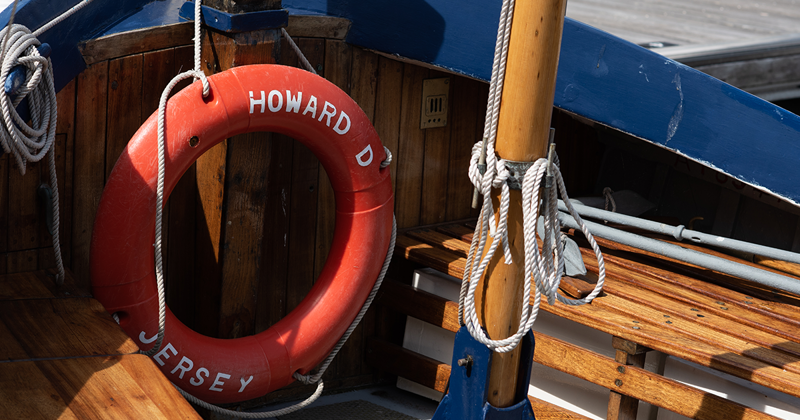 The Howard D is held within Jersey Heritage's collection of historical boats and can be seen moored alongside the Maritime Museum at St Helier's Marina.
Discover more
Learn more about life in occupied Jersey at the Jersey War Tunnels, with fascinating stories from people who experienced life under German occupation, told first hand or passed down the generations in local families.